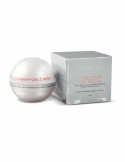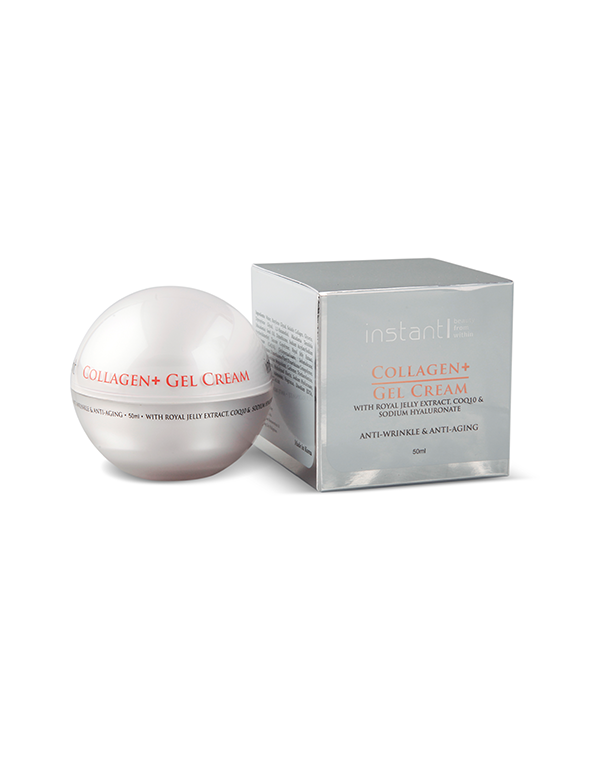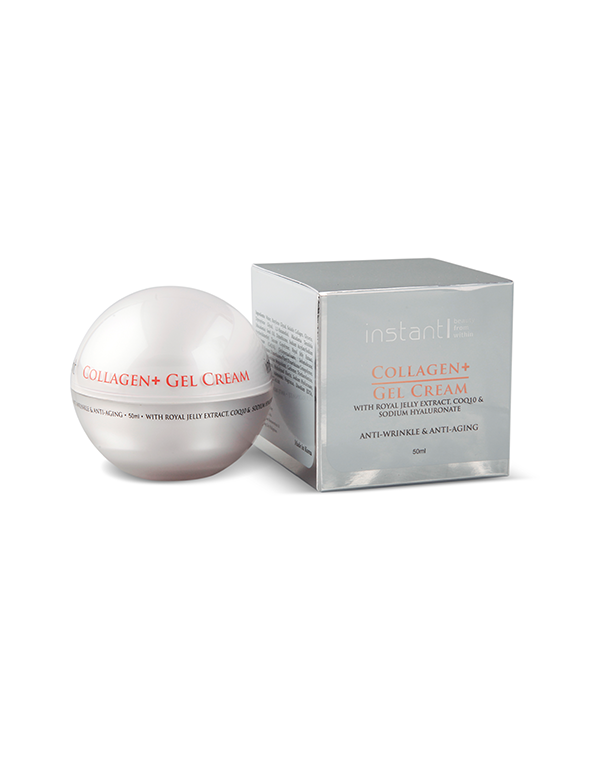  
Collagen Gel Cream
Anti-wrinkle
Anti-Aging
Skin Soothing
Moisturizing
Improves the skin elasticity
Rosy pearlescent gel cream riched in Collagen with Royal Jelly Extract, CoQ10 and Sodium Hyaluronate that leaves a refreshing feel.
Product Benefits
Soluble Collagen / Hydrolyzed Collagen: Collagen acts as the support structure for the skin. Loss of collagen can cause the wrinkles. It is known to make the skin firmer, treat aging signs such as wrinkles and skin sagging.
Royal Jelly Extract: Is one of the richest sources of protein and vitamins. Containing 17 amino acids, abundant levels of B vitamins and minerals, it is one of the most powerful nutrients in the fight against aging skin and inflammatory skin conditions, where it stimulates cellular renewal and the promotion and synthesis of collagen and elastin for firm, more toned skin and a smooth appearance.
Ubiquinone (CoQ10): A naturally occurring antioxidant that helps neutralize harmful free radicals. Coenzyme Q10 (CoQ10) is a vitamin-like substance produced by the human body and is necessary for the basic functioning of cells. it is an antioxidant that helps neutralize harmful free radicals, one of the causes of aging. Stress, aging or some medications can cause a natural decline in CoQ10 and in most people over thirty, levels of CoQ10 in the skin are below optimum, resulting in lesser ability to produce collagen, elastin and other important skin molecules. As a small molecule that can easily penetrate the skin, CoQ10 may boost skin repair and regeneration and reduce free radical damage. CoQ10 has the beneficial effect of preventing photoaging and wrinkles, most notably crows feet around the eyes.
Sodium Hyaluronate: A moisture retaining ingredient. Sodium Hyaluronate is the salt form of Hyaluronic Acid, a water-binding ingredient that has the ability to fill the spaces between the connective fibers known as collagen and elastin. Hyaluronic Acid is often injected into the skin (on the face most often), and hydrates and separates the skin, allowing it to retain water and create a plumping effect. Sodium Hyaluronate has been used for moisturization and wound healing since its discover in the 1930s. According to DermaDoctor.com, it is comprised of small molecules that penetrate the skin easily, and can hold up to 1000 their own weight in water. Because the skin naturally loses its water composition as it ages (going from 10% - 20% water to less than 10%), Hyaluronic Acid and Sodium Hyaluronate can replace some of the water lost in the dermis, and potentially fight wrinkles and other signs of aging.
Key Issues
Skin with visible signs of aging
Dry and dull skin

Ingredients
Water, Butylene Glycol, Soluble Collagen, Glycerin, Dipropylene Glycol, 1,2-Hexanediol, Macadamia Ternifolia (Macadamia) Seed Oil, Dimethicone, Sodium Acrylate/Sodium Acryloyldimethyl Taurate Copolymer, Royal Jelly Extract, Ubiquinone (CoQ10), Cyclopentasiloxane, Isohexadecane, Cyclohexasiloxane, Dimethicone/Vinyl Dimethicone Crosspolymer, Polysorbate 80, Sorbitan Sesquioleate, Carbomer, Triethanolamine, Hydrolyzed Collagen, Hydrolyzed Elastin, Sodium Hyaluronate, Tocopheryl Acetate, Adenosine, Fragrance, Disodium EDTA, Allantoin, CI 17200, CI 15985, CI 15510.
Usage
Apply an appropriate amount onto your face. Massage gently onto skin until fully absorbed. Use it on the final stage of your skin care regimen. For best result, use after Collagen+ Bubble Foam Cleanser.
2 other products in the same category:
Regular price
PHP1,499.00
Price
PHP1,199.20
Wrinkle Filler
Firms, repair and relax the skin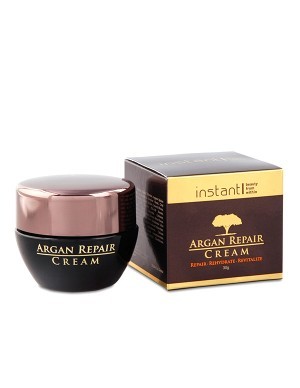 Regular price
PHP1,199.00
Price
PHP959.20
A white, light-weight cream that is rich in Argan Kernel Oil Extract that gives a natural essence.