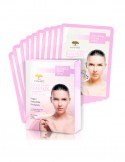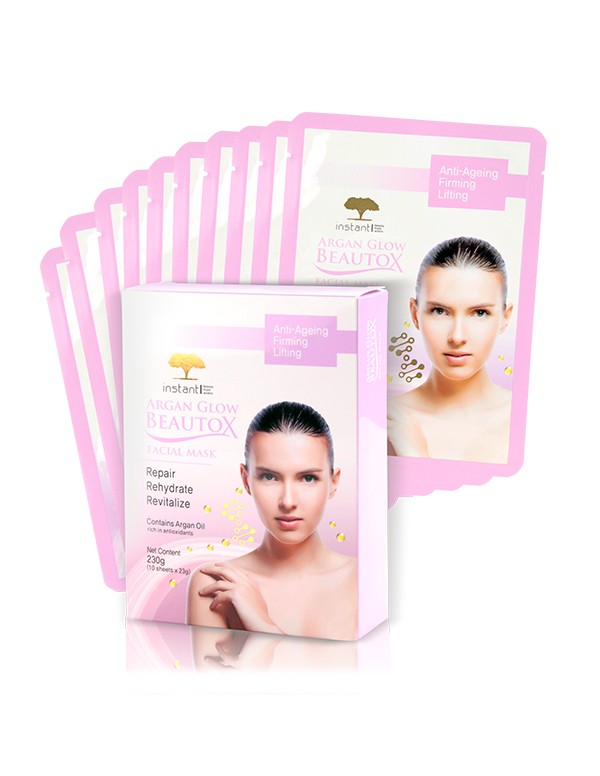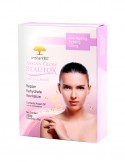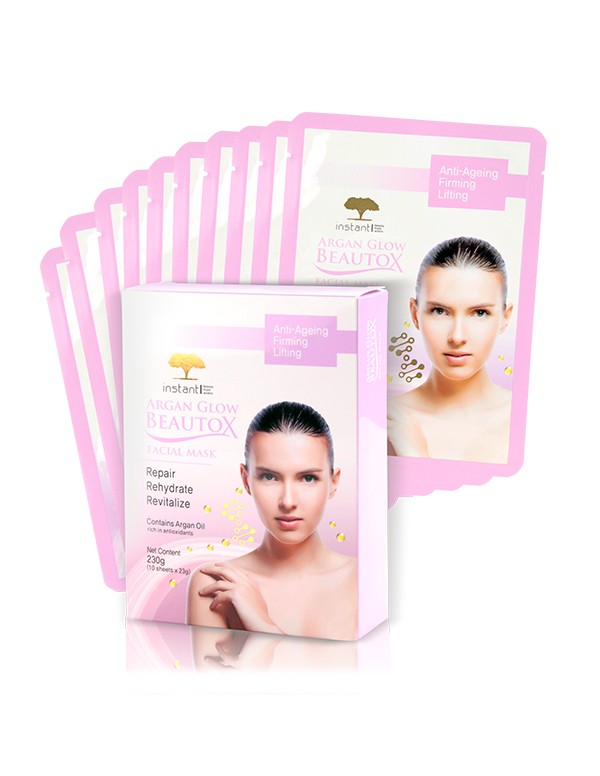  
Argan Glow Beautox Facial Mask (Box)
Repair. Rehydrate. Revitalize Contains Argan Oil rich in antioxidants.
Clearessence with light floral scent in a mask sheet that exactly fits the face for comfortable and relaxing treatment.
Gives instant cooling effect and deeply absorbs for a fresh and toned skin.
Argania Spinosa (Argan) Kernel Oil: It is an oil produced from the kernels of the Argan tree, endemic to Morocco. Pure and natural Argan Oil has been used in Morocco for centuries to nourish and protect the skin, hair and nails. Argan oil contains natural tocopherols (vitamin E), essential fatty acids and antioxidants.

Argan Oil is ideal for all skin types, including the most sensitive skins. It is an excellent moisturising emollient for dry, rough skin and can also be used to add a beautiful healthy sheen to hair, leaving it feeling silky soft and smooth.  
                                                                                                                                      
Clinically proven as an anti ageing tool by promoting production of collagen in the skin therefore effectively fights against free radicals responsible for facial wrinkles, neckline and the signs of ageing throughout the body. Argan oil leaves the skin soft and nourished with more natural elasticity whilst also restoring vitality to the nails.    
                                                                                                                    
Peptides, or mini proteins: Are active molecules that send signals to your cells. When collagen breaks down, it forms specific peptides that signal to your skin that it was damaged and needs to make new collagen. So by applying peptides topically, tricking our skin into thinking that it has lost collagen recently and needs to make more.
Acetyl Octapeptide-3: Peptide that reduce wrinkles formed from repetitive facial expressions

Acetyl Hexapeptide-8: Commonly referred to as "Botox in a jar" because it's believed to inhibit the release of neurotransmitters and relax the facial muscles- thus reducing expression lines and wrinkles.

Palmitoyl Oligopeptide: Stimulate collagen production and encourage the production of intercellular matrix substances such as hyaluronic acids.      

Palmitoyl Tetrapeptide-7: It is believed to work by muting the effect of chemical messengers known as interleukins in the skin that trigger an inflammatory response.

Palmitoyl Tripeptide-5: made up of chains of amino acids, and has the ability to penetrate the epidermis and enter deep into the dermis, where it stimulates collagen production and healthy tissue growth. It not only speeds up collagen synthesis in the skin, but early studies suggest that this peptide also has the ability to communicate with skin cells and prevent toxins that penetrate them from doing harm.                                         

Dipeptide-5 Diaminohydroxybutyrate:  It thereby improves skin tonicity, cellular cohesion and anti-wrinkle action, enabling molecular communication within skin.

Sodium Hyaluronate: A moisture retaining ingredient. Sodium Hyaluronate is the salt form of Hyaluronic Acid, a water-binding ingredient that has the ability to fill the spaces between the connective fibers known as collagen and elastin. Hyaluronic Acid is often injected into the skin (on the face most often), and hydrates and separates the skin, allowing it to retain water and create a plumping effect. Sodium Hyaluronate has been used for moisturization and wound healing since its discover in the 1930s. According to DermaDoctor.com, it is comprised of small molecules that penetrate the skin easily, and can hold up to 1000 their own weight in water. Because the skin naturally loses its water composition as it ages (going from 10% - 20% water to less than 10%), Hyaluronic Acid and Sodium Hyaluronate can replace some of the water lost in the dermis, and potentially fight wrinkles and other signs of aging.

Key Issues

Anti-Ageing, Firming, Lifting

Ingredients

Water, Glycerin, Butylene Glycol, Dipropylene Glycol, Sodium Hyaluronate,1,2-Hexanediol, Chlorphenesin, PEG-60 Hydrogenated Castor Oil, Carbomer, Triethanolamine, Phenoxyethanol, Argania Spinosa (Argan) Kernel Extract, Xanthan Gum, Ethyl hexyl glycerin, Disodium EDTA, Fragrance, Argania Spinosa (Argan) Kernel Oil, Palmitoyl Tetrapeptide-7, Palmitoyl Oligopeptide, Acetyl Octapeptide-3, Acetyl Hexapeptide-8, Palmitoyl Tripeptide-5, Palmitoyl Dipeptide-5 Diaminohydroxybutyrate, Palmitoyl Dipeptide-5, Diaminobutyroyl Hydroxythreonine.

Product Usage

After cleansing, put the mask on your face and leave it for15-20 minutes. Remove the mask and gently massage the remaining essence onto skin until fully absorbed.